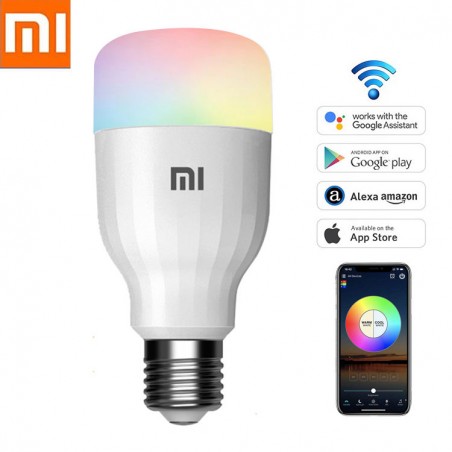  
Xiaomi RGB 16 Color Smart Bulb
Wi-Fi Connection (Hub-Free)
• Connect to your Wi-Fi network so you can easily control it from your smartphone at any time, from anywhere.
• Remote control via Xiaomi Home APP/Mi Home App
• Support smart functions, such as timing setting, multi-light group control, sunrise mode, etc.
• Can connect with more smart devices via Mi Home App

• Dimmable brightness from 80 to 950 Lumens

Adjustable color temperature
• Set the color temperature anywhere between 1700k to 6500k

Dazzling adjustable colors
• RGB color lighting allows Mi Smart LED Bulb to provide various colors for any situation.

• Work with Google Assistant, Amazon Alexa
• Use voice to turn on/off light, change color temperature and brightness


Energy-efficient & Long lifespan
•Highly energy efficient and has a lifespan of up to 25000 hours. That means with 3 hours per day of use
Model Mi Smart Bulb Essential (Lite) color and white
Specification
 Dimension:  50mm * 120mm
 Rated power: 9W
 Color adjustment: 16 millions
 Color temperature: 1700K ~ 6500K
 Bulb cap type: E26-E27
 Operatiing voltage: 220V-240V ~ 50/60Hz
 Luminous flux: 80 - 950 lumens
 Service life: 25000 hours
 Communication mode: Wi-Fi IEEE 802.11 b/g/n 2.4GHz
No customer reviews for the moment.